Our On-site Cabins (for 4 or 6 people)
Stay with your RVing friends in our comfortable cabins.
If you would like to reserve cabins for the same dates as RV friends and family please speak with our RV Park manager. If you do not need RV site but are still looking for accommodations in cabins please click on the AirBnb link.
Mama Bear Cabin
Sleeps 4
Twin/Twin bunk bed-suitable for teens/kids
1 queen bed
Private bath with tub,shower,toilet, towels
Beds have sheets, blankets, pillows
Kitchenette with small frig, sink, induction stove top, microwave, toaster, coffee pot
Kitchenware, plates, mugs, glasses, bowls, with some pots,pans
Small table and chairs
Air conditioner and heater
Private deck with propane BBQ grill
Laundromat available in our RV Park
Playground for kids, ping-pong, Connect-4 and horseshoes in RV Park
Parking for 1 vehicle
$249 per night
Papa Bear Cabin
Sleeps 6
Queen bed in private bedroom
Twin/Twin bunk bed-suitable for teens/kids
Couch with fold-down queen bed
Beds have sheets, blankets, pillows
Lounge chair
Private bath with tub,shower,toilet, towels
Kitchenette with full size frige, sink, induction stove top, toaster, microwave, coffee pot
Kitchenware, plates, cups, bowls, mugs, glasses, with some pots,pans
Extension table and chairs
2 air conditioners, heaters
Laundromat available in our RV Park
Playground for kids, ping-pong, Connect-4 and horseshoes in RV Park
Private deck with propane BBQ grill
Parking for 2 vehicles
$299 per night
Family Reunion Cabin
Our Reunion cabin sleeps up to 20 and is perfect for any large get-together. Our adjacent RV Park is available for those in your group that have RVs.
Click here to explore each room of our Reunion Cabin with 360 degree panorama images or click on a photo below to view a slide show of our reunion cabin interior.
Our Island Park Cabin Rental at Henry's Fork is perfect for your next family reunion, fishing trip, corporate retreat, or group getaway.
Nestled in the majestic pines of Mack's Inn, a historic part of Island Park, Idaho, we offer a magnificent luxury cabin suitable for family reunions, corporate retreats, or similar large gatherings. The property, known as the Henry's Fork Cabin, is located on Henry's Fork of the Snake River, known for its breathtaking beauty and world class fly fishing. From the cabin, take a short 25-minute drive through the stunning views of the Targhee National Forest to the west entrance of Yellowstone National Park. This unique cabin is available year-round to accommodate the endless summer and winter recreation in the surrounding area. Let us help to make your next gathering a memorable one.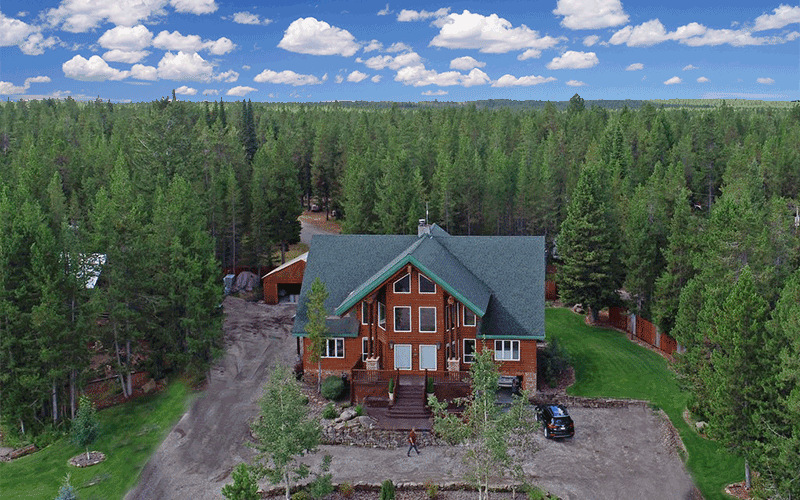 Beautiful Location
Henry's Fork Cabin is tucked among beautiful ponderosa pines, just off of highway 20. This cabin offers all the modern amenities to meet your every need. The gorgeous log interior is accentuated with an enormous rock fireplace to create the perfect mountain retreat for your guests. Visitors can enjoy the many deck spaces located on the front, sides and back of the cabin – perfect for sipping afternoon iced tea while soaking in the afternoon sun. It's a serene place to rejuvenate and enjoy some peace.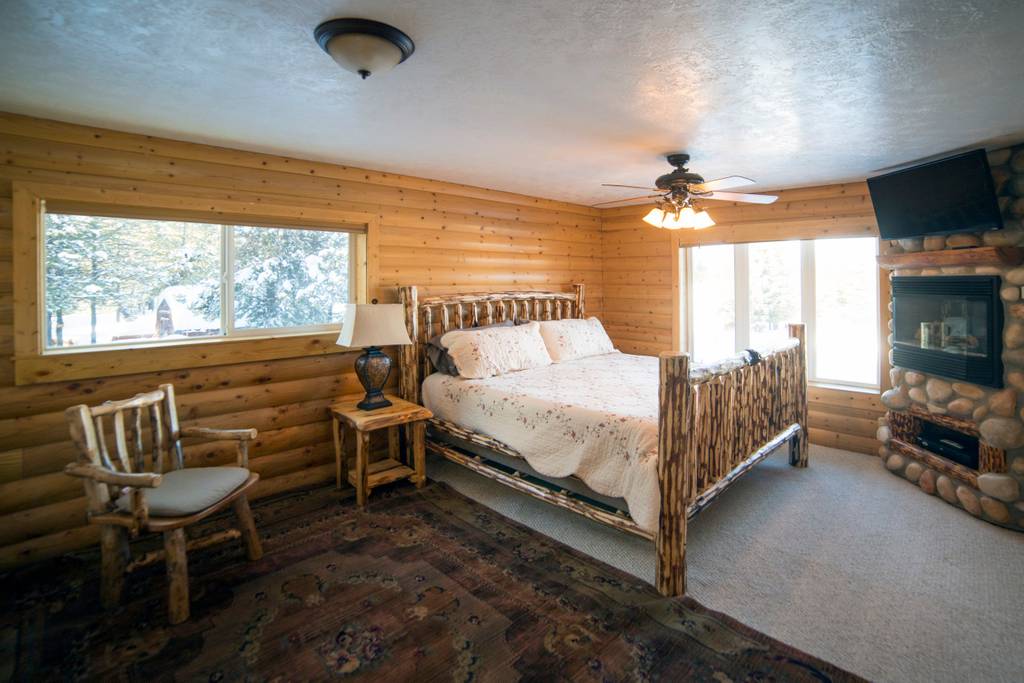 Family Ready Accommodations
The spacious cabin has five large bedrooms with a total of ten double beds that can accommodate up to 20 people. The master bedroom features a cozy propane fireplace and a sizeable bathroom with a tub/shower combo. There are two additional full-sized bathrooms as well, one conveniently located on each floor. A beautiful rock fireplace is central to the living quarters and will provide warmth even in the coldest winters - we supply some wood to get you started. Supplementary heating is from baseboard electric heaters. There is no summer air-conditioning but that is rarely needed in this area.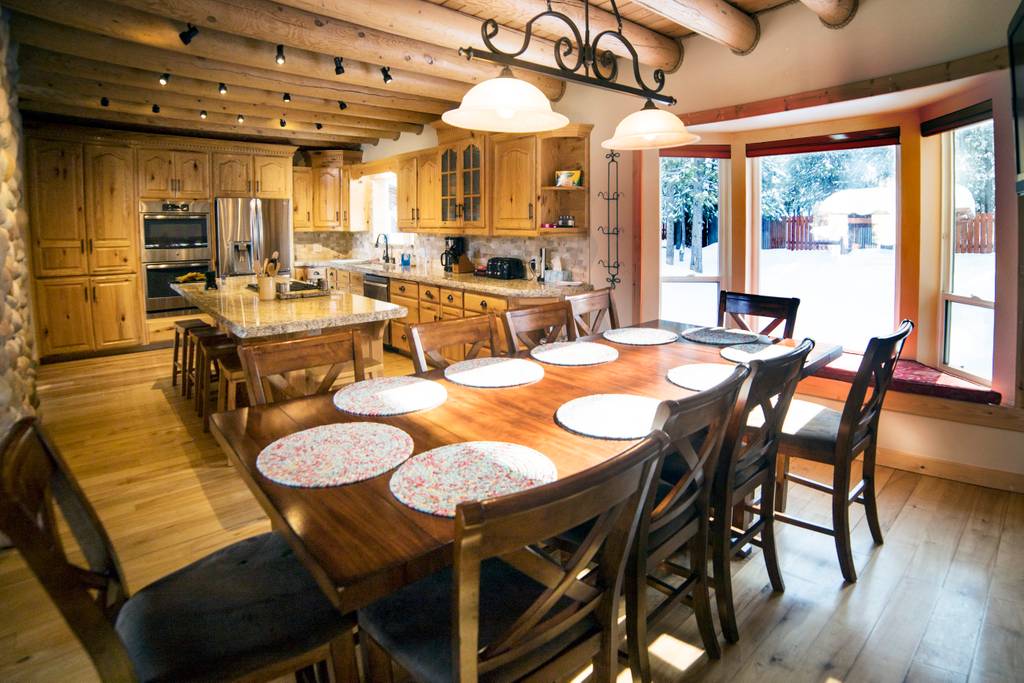 Chef Ready Kitchen
You'll love our custom kitchen. It is fully stocked with pots and pans, utensils, dishes, glasses, etc. There is a dining table that will seat twelve people, plus a kitchen island with stools to allow several more for family meals. For your outdoor cooking, we offer a propane BBQ grill and a large fire ring for nightly get-togethers around the campfire.
Entertainment
We have four flat screen televisions with fiber speed WiFi internet throughout. There is good wireless cell coverage. The kids will love the basement theater room with a big screen TV and huge beanbag chairs. The whole family will enjoy the indoor shuffleboard and foosball table. We also offer a selection of family board games. We provide a separate washer/dryer room with two dryers to get things cleaned up after a fun-filled day of fishing, hiking or trail riding. Restrictions - No pets are permitted. No smoking is allowed.
Our family Reunion Cabin is located in the heart of all that Island Park has to offer. After you've prepared a scrumptious breakfast for your guests, take a quick twenty-minute scenic drive to Mesa Falls, the last undisturbed waterfall in the Columbia River system. Burn off some energy hiking the surrounding trails while taking in exquisite views of the Falls and surrounding majestic mountains. For those looking for a more leisurely activity while still enjoying the great outdoors, visit Island Park Village Golf Course, a nine-hole course a short ten-minute drive from our cabin. For lunch, enjoy a delicious entrée from Café Sabor, a local favorite serving both Mexican and American cuisine. With your bellies full, get back outside and experience world class fly fishing on Henry's Fork of the Snake River! You can also rent a raft or kayak from Mack's Inn Boat Rentals for a laid back and relaxing float, if that is more to your liking. When evening arrives, take your group to the famous Yellowstone Playhouse for a night of dinner and family entertainment. Of course, don't forget that we are conveniently located only 22 miles from the entrance to West Yellowstone!
We will contact you via text or email a week prior to arrival with a key code for our back door. There is not an owner on site, but the Yellowstone RV Park Office next door will answer questions during your stay if you have problems. We will make sure you have a text or phone number to contact if you have any questions or problems.