Items for sale in our store.
Come visit our store, or call us and we will deliver items to your site between 9 and 6 .
Note: We can charge any item to your account using your on-file credit card when you check-out.
We have a small selection of LOCAL BOOKS on Yellowstone and FLY FISHING in our store. See the page containing images and descriptions of the available books here.
Ice 7lbs
---
7 lb Bag of Ice
Includes 6% tax in price.
Firewood
---
Bundle of Firewood
Includes 6% tax in price. Certified free of pests.
Fire Starter Sticks
---
4 Firestarter Sticks
Includes 6% tax in price.
Butane Lighter
---
Butane Lighter
Brand may vary. Price is for one lighter.
Ice Cream
---
Ice Cream
Sherbert Push Up $1 item
Haagen Dazs Bar $3 item
Giant Sundae Cone $3.50
Ice Cream Sandwich
Selection varies.
Soda
---
Cold Soda Can
Coke, Diet Coke
Pepsi, Root Beer
7-up or Sprite
Orange or Grape Fanta
Includes tax.
Candy
---
Assorted Candy Bars
Milky Way
Hersey Bar
Butterfinger
M&Ms
Selection may vary.
Batteries
---
Alkaline Batteries
Price is for one battery.
Sewer Elbow
---
Camco Bayonet Elbow for Sewer
Requires bayonet connector on your hose.
Sewer Seal
---
Rubber Sewer Seal
Only works with bare sewer hose. Stay legal if you forgot your sewer connector.
Sewer Hose kit 20 feet
---
20' Sewer Hose complete kit
Use to connect RV to our sewer system.
Drinking Water hose 25' 5/8"
---
Twenty-five Foot water hose for drinking water.
Camco 5/8" inner diameter
Drinking Water hose 50' 5/8"
---
Fifty foot drinking water hose 5/8" inner diameter
Extension Sewer Hose 10 Feet
---
Heavy Duty Extension Sewer Hose 10 Feet
Fuses
---
Automotive and RV Fuses
Each fuse is $1.
Water Pressure Regulator
---
Water Hose Pressure Regulator
OFF! Deep Woods dry repellant
---
Insect repellant spray
StingEze Original Insect Bite Itch Relief Pen
---
Insect sting relief
.5 oz
Coconut Lime Verbena Shampoo & Conditioner
---
Shampoo or Conditioner
Price is for each .75 oz bottle.
Salt/Pepper packets
---
5 packets of salt or pepper
Price is for 5 packets of either salt or pepper.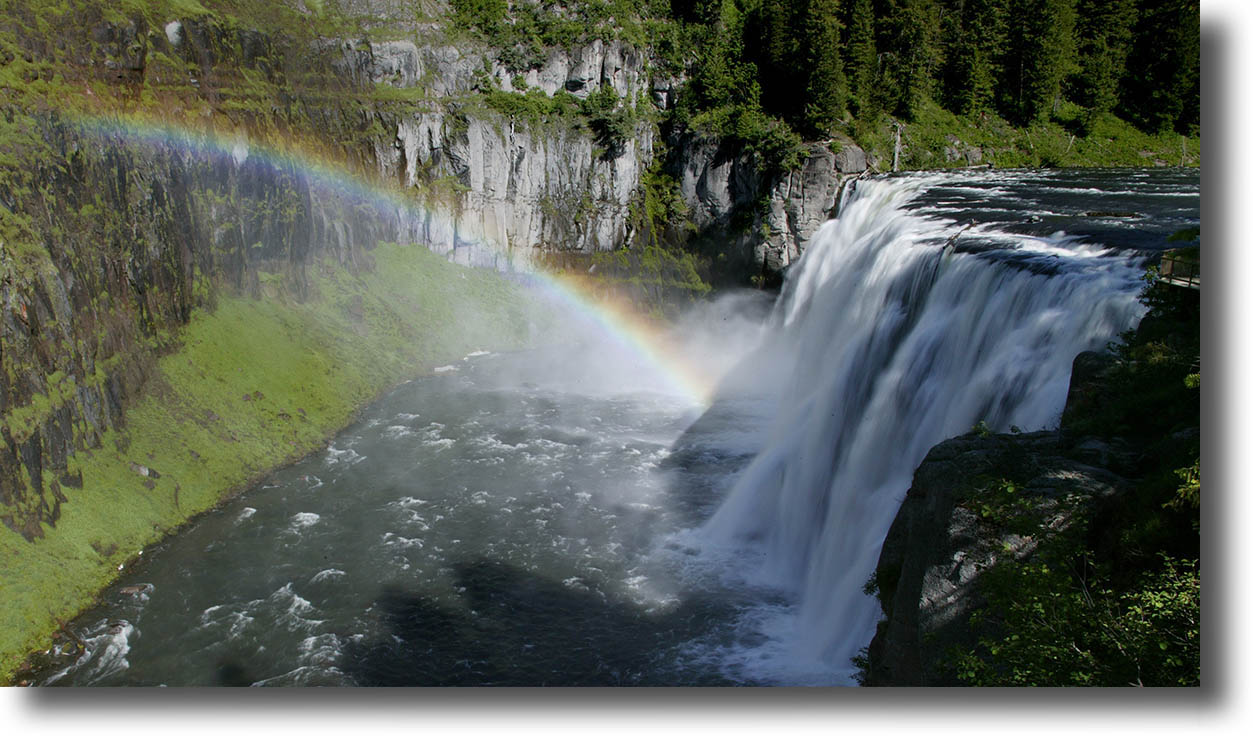 Post Cards
---
Postcards
Our logo and beautiful photos of the area by James N Perdue. Variety of images to choose from.
Magnetic Post Cards
---
5" x 3" Magnetic Post Cards
Stick to refrigerator. Several styles with our logo.
Collectible Logo Stickers
---
Our Logo Sticker
Our Logo on a 3" x 5" sticker suitable for glass windows.
Mugs, 12 oz.
---
Mugs with our logo and images
Choose from two styles. Prismatic Spring or Mesa Falls